Buy Nissan Leaf New 2016 Model from exporter in Japan - Import New Leaf EV Direct from Tokyo based Dealer
Japanese New Car


Nissan Leaf
2016 model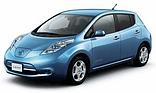 The Nissan LEAF is a newly developed Electric Vehicle designed for the Zero Emission, offering new mobility for zero-emission. Achieving outstanding environmental performance as a zero-emission vehicle with no tailpipe emissions, including CO2, Nissan LEAF is powered by a lithium-ion battery and an electric motor. It provides unique driving experience, delivering strong, smooth acceleration performance and quietness comparable to luxury vehicles. It also offers superior handling stability realized by its excellent weight balance.

As a specifically designed electric vehicle, Nissan LEAF supports the comfortable life and completely new values that an EV car can provides. With enough interior space to accommodate five passengers, Nissan LEAF featuring a driving range of 200 km (on JC08 mode), to satisfy the drivers. Nissan LEAF also utilizes an advanced IT system, which provides customers with convenient functional support.
Make
Nissan
Model
Leaf (Electric car)
Battery
Laminated Lithium-ion battery
Driving Type
FF Two Wheel Drive (2WD)
Steering Position
Right Hand Drive (steering on the right side of car)
Transmission Type
Automatic
Fuel type
Electric car
Passenger Capacity
5 (According to Japanese law)
Engine Type
High-response Synchronous EM57 motor 80kw, 254Nm + 360V . 30kWh ion Lithium Battery
Number of Doors
5
See pictures of this car
Front view . Back view . Cockpit view . inside view
Available Colors
See available colors of this car Nissan Leaf body colors
Price
US$ 36,000. (Total Price Calculation)
Shipping cost
Check shipping cost of this car to your country Shipping cost
Total price
Car price US$ 36,000. + Shipping cost + Marine insurance US$ 120. = Total price
Extra charges
There are no hidden cost or extra charges
Spare parts
We will supply spare parts of this car at any time
About us
Send inquiry for this car Click here
Batfa Japan Inc.
1 chome, Setagaya-ku, Tokyo 154-0017 Japan
Tel : 81334138080 Tel : 81334138084
Copyrights (C) 2016-2017, New Nissan Leaf Japan. All rights reserved.