Nissan Fairlady Z 2015 New Model from exporter in Japan - Import New Nissan 370Z Nismo direct from Tokyo
New Japanese car


Nissan Fairlady Z
2015 model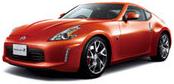 The Fairlady-Z is a sports car manufactured by Nissan Motors Company in Japan. The first Fairlady was sold in Japan about 43 years ago in the year 1969. Since then, Fairlady Z is one of the best-selling car of Nissan line-up, both in Japan's domestic auto market and overseas. Enthusiasts at Japan Inspection Organization praise the car for their looks, reliability, performance, and affordability including improved interior cosmetics and ergonomics. Nissan FairladyZ has currently holding the record for the best selling sports car series of all time with over 3 million cars are sold worldwide.

The latest model is powered by Nissan's 3.7 liter V6 engine. The Fairlady Z is currently available in six-speed manual gearbox and a seven-speed automatic with paddle shifts as well. The Nissan Fairlady Z is still the best-choice among the sport car lovers with no drop in popularity since the decades. Choose a variant suitable for you from the reliable dealer and your decision will not regret you. Send an inquiry for this car to Batfa.com.
Make
Nissan
Model
Fairlady Z
Engine capacity
3700 cc (officially 3696cc)
Driving type
Two Wheel Drive (2WD)
Steering position
Right Hand Drive (steering wheel on the right side of car)
Transmission type
Available in 2 type transmission:
* 7 Speed Full Range Electronic Automatic Transmission with Manual mode (7M-ATx)
* 6 Speed Manual Transmission
Fuel
Gasoline (Petrol)
Passenger capacity
2 (According to Japanese law)
Engine type
VQ37VHR . DOHC . V 6 Cylinders . 24 Valves
Number of doors
2
See pictures of this car
COUPE : Front view . Back view . Cockpit view . inside view
NISMO VERSION : Pic 1 . Pic 2 . Pic 3 . Pic 4 . Pic 5 . Pic 6 . Pic 7 . Pic 8
Available Colors
Exterior colors : Click here . Nismo
Interior colors : Coupe . Roadster . Nismo
Price
Coupe Manual Transmission = US$ 48,600.
Coupe Automatic Transmission = US$ 49,600.
Nismo Manual Transmission = US$ 64,600.
Nismo Automatic Transmission = US$ 66,600.
Remarks
Shipping cost is not included in above prices
Shipping cost
Check shipping cost of this car to your country click here
Total price
Car price + Shipping cost to your country + Marine insurance US$ 180 = Total price

Total calculation 

Get automatic calculation of this car to your country:
Coupe Manual Transmission . Coupe Automatic Transmission
Nismo Manual Transmission . Nismo Automatic Transmission

Extra charges
There are no hidden cost or extra charges
Spare parts
We will supply spare parts of this car at any time
About us
Want to buy this car? Contact us click here
Batfa Japan Inc.
1 chome, Setagaya-ku, Tokyo 154-0017, Japan
Tel: +81334138080 Fax: +81334138084
Copyrights (C) 2015-2016, New Nissan Fairlady Z370 Japan. All rights reserved.