Buy New Nissan Elgrand from exporter in Japan, Import New Nissan Elgrand Highway Star, Rider, Direct from Tokyo based dealer
Japanese New Car


Nissan Elgrand
2017 model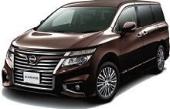 The Nissan Elgrand is the premier luxury minivan in lineup of Nissan new cars, manufactured by second largest automaker in Japan Nissan Motor Company. The new model is very popular among the multi purpose vehicle customers for distinguished styling, Majestic and sleek design, performance and first class driving comfort. The interior styling is great luxerious and one of the best in its class with rich feeling, strong body and low maintenance charges, This vehicle has also called the "King of Minivans" among minivan lovers. With different taste of riding, Nissan Japan is hoping hot sales of this model in the world.

The worldwide reputation of new generation Elgrand imparts a strong luxury presence to compete new Toyota Alphard. The interior is specially designed for the comfort and relaxation of passengers. The exterior styling is posh and classy with impressive look to make this mini-van hot-selling Nissan car in today's Japanese domestic auto market, as well as all over the world. In addition to comfort, the new model offers very economical fuel efficiency and dynamic performance.
Batfa Japan Inc.
1 chome, Setagaya-ku, Tokyo 154-0017 Japan
Tel : 81334138080 Tel : 81334138084
Copyrights (C) 2017-2018, New Nissan Elgrand Highway Star Japan. All rights reserved.