Buy new Nissan Caravan Micro Bus from main exporter in Japan, import new Japanese cars from Tokyo based Nissan dealer
Japanese New Car


Nissan Caravan Micro Bus
2023 model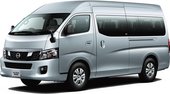 The new Nissan Caravan Micro Bus has been launched in Japan. The brand name of latest model is changed from "NV350 Caravan Micro Bus" to simple name "Caravan Micro Bus. The new model is more luxurious than ever, and has significant improvements in specs and performance than the old model. It is not available in Diesel Engine. Only Petrol (Gasoline) engine model with high roof and 7E type automatic transmission. The new model is ideal to use as Taxi or pickup and drop service to your valuable guests from the airport to hotel and so on.

Japan's second largest auto-maker are hoping to sell this micro bus not only in Japanese domestic market, but also overseas countries with strong presence in international auto market in people carrying commercial vehicle category. Nissan Japan is expecting the new Nissan Caravan Micro Bus will capture the market quickly and will beat rival Japanese commercial vehicles in terms of selling units. Due to its strong body, less maintenance charges and smooth driving pleasure, choose Nissan Caravan Micro Bus as your next fleet vehicle for right decision.
Batfa Japan Inc.
1 chome, Setagaya-ku, Tokyo 154-0017 Japan
Tel : 81334138080 Email: info@batfa.com
Copyrights (C) Nissan Caravan Micro Bus Japan. All rights reserved.