Buy Mitsubishi EK Space New Model from main exporter in Japan. Import New EK Space Direct from Tokyo based Mitsubishi dealer.
Japanese New Car


Mitsubishi EK Space
2023 Model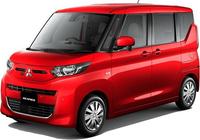 Make
Mitsubishi
Model
EK Space (Hybrid)
Engine Capacity
660cc (official 659cc)
Driving Type
Available in both Two Wheel Drive (2WD) and also Four Wheel Drive (4WD)
Steering Position
Right Hand Drive (Steering on the right side of car)
Transmission Type
CVT Automatic Transmission
Fuel
Gasoline (Petrol) + Hybrid System
Passenger Capacity
4 (According to Japanese law)
Engine Type
BR06 . DOHC . 3 Cylinders . 12 Vailves + SM21 Motor Hybrid System
Number of Doors
5
Pictures of car
See photo of this car Mitsubishi EK Space pictures
Available Colors
See available colours of this car Mitsubishi EK Space body colors
Price
2WD = US$ 15,800. (Total Price Calculation)
4WD = US$ 17,800. (Total Price Calculation)
Extra charges
There are no hidden cost or extra charges
Spare parts
We will supply spare parts of this car at any time
Verification
Verified and recognized company by "Japan Anti Fraud Organization"
Send inquiry for this car Click here
Batfa Japan Inc.
1 chome, Setagaya-ku, Tokyo 154-0017 Japan
Tel: +81334138080 Email: info@batfa.com
Copyrights (C) Mitsubishi EK Space Japan. All rights reserved.