Nissan Juke New 2015 Model export from Japan. Import New Juke Direct from Tokyo.
Japanese New Car


Nissan Juke
2015 model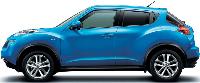 Make
Nissan
Model
Juke
Engine Capacity
1500cc (official 1498cc) Also available in 1600cc (official 1618cc)
Driving Type
1500cc model is available in Two Wheel Drive (2WD) only
1600cc model is available in both 2WD and aslo 4WD (Four Wheel Drive)
Steering Position
Right Hand Drive (on the right side of car)
Transmission Type
1500cc : Xtronic CVT Automatic Transmission
1600cc : Xtronic CVT-M6 Automatic Transmission
Fuel
Gasoline (Petrol)
Passenger Capacity
5 (According to Japanese law)
Engine Type
1500cc : HR15DE . DOHC . 4 Cylinders . 16 Valves
1600cc : MR16DDT . DOHC . 4 Cylinders . 16 Valves
Number of Doors
5
See pictures of this car
Pic1 . Pic2 . Pic3 . Pic4 . Pic5 . Pic6 . Pic7 . Pic8 . Pic9 . Pic10 . Pic11
Available Colors
See available colors of this car click here
Price
1500cc . 2WD = US$ 22,300.
1600cc . 2WD = US$ 29,300.
1600cc . 4WD = US$ 31,300.

Remarks
Shipping cost is not included in above price
Shipping cost
Check shipping cost of this car to your country click here
Total price
Car price + Shipping cost + Marine insurance US$ 120 = Total price

Total calculation

Get automatic calculation of this car to your country: 1500cc 2WD . 1600cc 2WD . 1600cc 4WD

Extra charges
There are no hidden cost or extra charges
Spare parts
We will supply spare parts of this car at any time
About us
We are approved and recognized company by "Japan Company Trust Organization"
Want to buy this car? Contact us click here
Batfa Japan Inc.
1 chome, Setagaya-ku, Tokyo 154-0017 Japan
Tel: +81334138080 Fax: +81334138084
Copyrights (C) 2015-2016, New Nissan Juke Japan. All rights reserved.