Buy Honda N One New 2018 model from exporter in Japan. Import New Honda N-One direct from Tokyo based main dealer
Japanese New Car

Honda N One
2018 model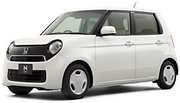 Honda Japan released new "premium small" minicar called "Honda N-One". The model is rival of American car Fiat 500 and will first available for sale in domestic market of Japan and a good addition in Japanese new cars 2017 models in world's top car producing country where competition is very keen among the Japanese car manufacturing companies.

The new Honda N-One was first shown at the Tokyo Auto Show in 2011. The N-One is a cute car with beautiful design and better performance in just 660cc engine. Driving Honda's latest N-One is fun and interesting, less maintenance charges, cheap to run in terms of fuel-economy. If you have plan to importing a car from japan in near future, Honda N-One is one you can consider.
Batfa Japan Inc.
1 chome, Setagaya-ku, Tokyo 154-0017, Japan
Tel: +81334138080 Fax: +81334138084
Copyrights (C) 2018-2019, New Honda N-One Japan. All rights reserved.