Buy Honda Acty Truck New 2022 Model from exporter in Japan. Import New Acty Truck direct from Tokyo based Honda dealer.
Japanese New Car


Honda Acty Truck
2022 model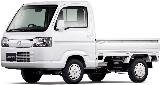 Sorry, the production of this model has stopped.
For other Honda Models list visit Honda Website
Batfa Japan Inc.
1 chome, Setagaya-ku, Tokyo 154-0017 Japan
Tel: +81334138080 Fax: +81334138084
Copyrights (C) Honda Acty Truck Japan. All rights reserved.