Buy Honda Shuttle New 2018 Model from Export in Japan. Import New Honda Fit Shuttle Direct from Tokyo based Honda dealer
Japanese New Car


Honda Shuttle
2018 model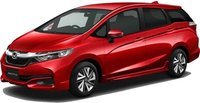 The Honda Japan has launched a new compact wagon called the "Shuttle". The all-new unique model is five-passenger people movers that feature a veritable arena of cargo space, relative to the vehicle's compact size. Storage is readily available above the low load floor, but there's more hiding underneath. Although, this model is slightly smaller than the Toyota Alphard but has enough space for 5 five adult passergers and variety of cargo. The model is called "Honda Jazz" in overseas countries, and is one of the long time best seller of Japan's third largest auto maker.

The rear row of seats can be stowed, creating a flat cargo space. The varying rear end arrangements allow for a wide variety of cargo to fit inside the Shuttle. This great capacity model is available for Sale in Japan as well as export worldwide. Check out detail, price, image gallery, and the body color variation at below.
Make
Honda
Model
Shuttle
Engine Capacity
1500cc (official 1496cc)
Driving Type
Available in both FF Two Wheel Drive (2WD) and Four Wheel Drive (4WD)
Steering Position
Right Hand Drive (on the right side of car)
Transmission Type
Automatic transmission with Torque converter
Fuel
Gasoline (Petrol)
Passenger Capacity
5 (According to Japanese law)
Engine Type
L15B . i-VTEC . 4 Cylinders . 16 Valves
Number of Doors
5
See pictures of this car
Front view . Back view . Cockpit view . inside view
Available Colors
See available colors of this car Honda Shuttle body colors
Price
2WD = US$ 20,500. (Total Price Calculation)
4WD = US$ 22,500. (Total Price Calculation)
Remarks
Shipping cost is not included in above price
Extra charges
There are no hidden cost or extra charges
Spare parts
We will supply spare parts of this car at any time
Verification
Send inquiry for this car Click here












Batfa Japan Inc.
1 chome, Setagaya-ku, Tokyo 154-0017 Japan
Tel: +81334138080 Fax: +81334138084
Copyrights (C) 2018-2019, New Honda Shuttle Japan. All rights reserved.