USED TOYOTA CALDINA FOR SALE IN JAPAN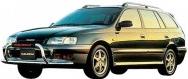 The Toyota Caldina is a popular station-wagon type vehicle specially produced for the Japanese market and later exported to overseas countries by Japanese used car export companies in Japan. Amid of its popularity by Japanese used car importers in all over the world, the fact is that the Caldina has never been officially exported by Toyota outside of Japan, the model's four wheel drive (4WD) trim and enough room capacity have made the Toyota Caldina a very popular grey import in many countries and continents of the world.

The Toyota Caldina is a 5-door station-wagon also available in van version mainly for commercial cargo carrying purpose. The station-wagon version has a independent strut rear suspension while the commercial van version has semi-independent leaf springs. Although, the production of Toyota Caldina was finished in the year 2007, and this model is not available as new Japanese car in Japan, but you can import used Toyota Caldina direct from Japan through a Japan Company Trust Organization verified reliable car exporter.
Toyota Caldina Used Cars Stock List
Stock No.
Model
Year
Color
Price
Details
70501
Caldina
1996
Blue
US$ 1,800
Details
70502
Caldina
2000
Blue
US$ 2,800
Details
70503
Caldina
2005
Black
US$ 4,800
Details
Batfa Japan Inc.
1 chome, Setagaya-ku, Tokyo 154-0017 Japan
Tel: +81334138080 Fax: +81334138084
Certified used cars by "Japan Inspection Organization"
Verified and recognized by "Japan Company Trust Organization"
Copyrights (C) 2014-2015, Used Toyota Caldina Japan. All rights reserved.