USED TOYOTA AVENSIS WAGON EXPORT JAPAN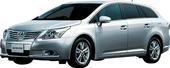 Toyota Avensis Wagon used cars for export from Japan. Import used Toyota car direct from Tokyo. Your decision to this station wagon will not regret you. Import best Japanese used car for sale as all cars are open for a third party inspection by "Japan Inspection Organization".

If you will not find any stock, please be patient as new stock will arrive soon. At the same time view other stock of used Japanese cars at our group website, where thousand of Japanese and non-Japanese used cars are on display for immediate sale to any country of the world.
TOYOTA AVENSIS WAGON STOCK LIST
Stock No.
Model
Year
Color
Price
Details
Sorry !! No Stock
Batfa Japan Inc.
1 chome, Setagaya-ku, Tokyo 154-0017 Japan
Tel: +81334138080 Fax: +81334138084
Copyrights (C) 2016-2017, Used Toyota Avensis Wagon Japan. All rights reserved.