USED TOYOTA ARISTO FOR SALE IN JAPAN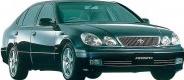 The Toyota Aristo is a mid-size luxury sports sedan car classified in executive class luxury car. The model is marketing in overseas countries as "Lexus GS". The first model was introduced in Japan for domestic sale in the year 1991 which was later import in many countries from the main Japanese car exporter in Tokyo.

This model still has very good market in Japan and all over the world after the two decades since its debut. Produced in Tahara assembly plant in Japan, Toyota Aristo is one of the best-selling model which has world famous Toyota Land Cruiser Prado in the same category of best-seller vehicles in terms of number of units sold.
Toyota Aristo Used Cars Stock List
Stock No.
Model
Year
Color
Price
Details
AT 110
Aristo
1994
Silver
US$ 3,200
Details
3208131
Aristo
1994
Silver
US$ 3,200
Details
3100270
Aristo
1996
Pearl
US$ 4,600
Details
Batfa Japan Inc.
1 chome, Setagaya-ku, Tokyo 154-0017 Japan
Tel: +81334138080 Fax: +81334138084
Copyrights (C) 2016-2017, Used Toyota Aristo Japan. All rights reserved.