TOYOTA ALPHARD HYBRID FOR EXPORT IN JAPAN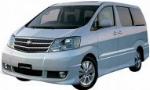 The Toyota Alphard Hybrid is most famous family vehicle in Toyota Japan's minivan series. Due to its ultra-low emission, smooth driving, fuel-economy, noiseless driving pleasure, "Toyota Alphard Hybrid" is very popular in Japan's domestic market and rest of the world after Toyota Land Cruiser which is remain No.1 seller in Toyota line-up. This mini van is ideal for big families and as passenger van to import in any country of the world.

By choosing "used Toyota Alphard Hybrid" as your next family car, you are getting a vehicle beneficial both for yourself for fuel-efficiency and for society as this car exhaust very low CO2. In some countries, this car is very successful as Taxi and passenger carry vehicle from Hotels and Airport as well. You can also import Toyota Vellfire which is the same spec family car with different shape and design by reliable exporter.
Toyota Alphard Hybrid Used Cars Stock List
Stock No
Model
Year
Color
Price
Details
210717
Alphard Hybrid
2003
Pearl
US$ 5,700
Detail
210718
Alphard Hybrid
2003
Silver
US$ 5,700
Detail
210719
Alphard Hybrid
2004
Black
US$ 6,700
Detail
210720
Alphard Hybrid
2004
Pearl
US$ 6,700
Detail
210721
Alphard Hybrid
2004
Silver
US$ 6,700
Detail
210722
Alphard Hybrid
2005
Black
US$ 7,700
Detail
210723
Alphard Hybrid
2005
Pearl
US$ 7,700
Detail
210724
Alphard Hybrid
2006
Black
US$ 9,700
Detail
210725
Alphard Hybrid
2006
Pearl
US$ 9,700
Detail
210726
Alphard Hybrid
2006
Silver
US$ 9,700
Detail
210727
Alphard Hybrid
2007
Pearl
US$ 11,700
Detail
210728
Alphard Hybrid
2007
Silver
US$ 11,700
Detail
Batfa Japan Inc.
1 chome, Setagaya-ku, Tokyo 154-0017 Japan
Tel : 81334138080 Email: info@batfa.com
Copyrights (C) Toyota Alphard Hybrid used cars Japan. All rights reserved.