USED TOYOTA AQUA EXPORT FROM JAPAN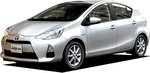 The Toyota Aqua is a compact Hybrid car with Hatchback style in Japan. It is marketing in America and some other countries with the name of Toyota Prius C while imported by reliable Japanese car exporter in Tokyo, and admired by earth safety lovers for minimum CO2 exhaust system in the car.

The model is popular for higher fuel-economy in city driving. This model is awarded as the "Most fuel efficient compact car by Environmental Protection Agency "EPA" as this car is ranked world's most ultra-low-emission car. Import Toyota Aqua will save your fuel charges and the environment as well.
Batfa Japan Inc.
1 chome, Setagaya-ku, Tokyo 154-0017 Japan
Tel: +81334138080 Fax: +81334138084
Copyrights (C) Used Toyota Aqua Hybrid Japan. All rights reserved.