Buy New Toyota Premio 2016 Model from exporter in Japan. Import FL Package direct from Tokyo based Toyota Japan Dealer
Japanese New Car


Toyota Premio
2016 model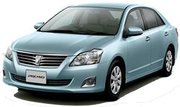 The Toyota Premio is a luxury mid-size sedan sold in Japan by Toyota Motor Corporation. The model is an upscale, and more luxurious sedan in comparison to the other Japanese new cars of similar level. The elegant look and it is considered to be a family or executive type car. The Premio is designed as the upper-class front wheel drive sedan. In comparison with other Japanese cars, Premio is considered pretty enormous for its size! it's one of the most fuel economical car to import in any country of the world.

The steering is light and with good control. Passenger are very comfortable as the seats can decline. In addition, there are lots of leg room for the rear passengers. In comparision with other Japanese cars of similar class, the length of the car is slightly longer. The interior is really very luxurious, and everything is so well built and with precision. As for the exterior, it looks more classy, you will still prefer premio as its very classy and looks pretty much to catch the heart of people who like to own a luxury sedan car by reliable exporters in Japan.
Make
Toyota
Model
Premio
Engine Capacity
Available in 1500cc, 1800cc, and 2000cc
Driving Type
1500cc and 2000cc is available in Two Wheel Drive (2WD) only
1800cc is available in both 2WD and also Four Wheel Drive (4WD)
Steering Position
Right Hand Drive (on the right side of car)
Transmission Type
Super CVT-i Automatic gear
Fuel
Gasoline (Petrol)
Passenger Capacity
5 (According to Japanese law)
Engine Type
DOHC 16 valve
Number of Doors
4
See pictures of this car
Front view1 . Front view2 . Back view . Side view . Cockpit view . inside view
Available Colors
See available colors of this car Toyota Premio body colors
Price
1500cc . 2WD = US$ 21,500. (Total Price Calculation)
1800cc . 2WD = US$ 23,500. (Total Price Calculation)
1800cc . 4WD = US$ 25,500. (Total Price Calculation)
2000cc . 2WD = US$ 26,500. (Total Price Calculation)
Remarks
Shipping cost is not included in above price
Shipping cost
Check shipping cost of this car to your country Shipping cost
Total price

Car price + Shipping cost to your country + Marine insurance US$ 120 = Total price.

Extra charges
There are no hidden cost or extra charges.
Spare parts
We will supply spare parts of this car at any time
About us
We are verified and recognized company by "Japan Company Trust Organization"
Send inquiry for this car Click here
Batfa Japan Inc.
1 chome, Setagaya-ku, Tokyo 154-0017 Japan
Tel : 81334138080 Tel : 81334138084
Copyrights (C) 2016-2017, New Toyota Premio Japan. All rights reserved.