JAPANESE CAR REGISTRATION DOCUMENT
Japanese Vehicle DE-Registration Certificate
Re-issue of Japan Car Register Document, Vehicle De-Registration Certificate Duplicate paper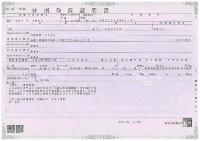 The Japanese de-registration/registration paper of Japanese used car, imported from Japan is a very important document issued by the Transport Bureau of the Ministry of Land, Infrastructure, Transport and Tourism Japan.
In order to register any Japanese or non-Japanese vehicle imported in your country from Japan, you must submit the deregistration/registration paper of car to your local vehicle registration office. The registration of any automobile imported from Japan is very difficult without this document, and almost impossible in some countries.

If you have lost original deregister paper (also called de-registered or de-register paper or Export certificate or "Japanese Title") of your car which was imported from Japan, whether it is a Japanese car or a non-Japanese car, we can supply duplicate deregistration/registration Certificate issued by the Bureau of Transportation Department at the Ministry of Transportation in Japan.
Important note:
We cannot supply duplicate de-registration certificate for less than 990cc engine cars.
We cannot supply duplicate de-registration certificate for Motorcycle/Scooter/Two Wheelers.

The fee is Japanese Yen 30,000 (Currency Exchange Rate) including English translation (original paper is in Japanese language) and postage charges by speed courier (EMS/Fedex/UPS) in any country of the world. The paper will be sent within 5 working days of confirmation of fee payment.
PROCEDURE:
Send chassis number (also called "vin number" or frame number) of your car.
Send document fee Japanese Yen 30,000 (Currency Exchange Rate) by Paypal, Credit card, or by wire transfer in our Japanese Bank.
The document will be dispatched within 5 working days after confirmation of payment.
For speedy shipment of document by Fedex speed courier, send your full name, complete address including zip code, and telephone number separately by Email.

For 2 or more certificates, proceed the fee payment by click here


Our Japanese Bank Account
Name of Bank : Sumitomo Mitsui Banking Corporation
Branch Name : Setagaya Branch
Account No. 1 3 3 3 0 4
Swift Code of Bank : S M B C J P J T
Account holder's Name : Batfa Japan Inc.
Address of Bank : 1-1-2 Yurakucho, Chiyoda-ku, Tokyo, Japan


Send inquiry for de-registration certificate by click here
Batfa Japan Inc.
1 chome, Setagaya-ku, Tokyo 154-0017 Japan
Tel: +81334138080 Fax: +81334138084
Copyright (C) Japanese used car deregistration certificate. All rights reserved