Buy New Toyota Crown Majesta Hybrid from exporter in Japan. Import Toyota new car direct from Tokyo based Toyota Japan Dealer
Japanese New Car


Toyota Crown Majesta Hybrid
2016 model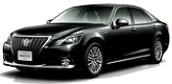 The Toyota Crown Majesta, one of the superior luxury sedan from Toyota Japan, is a full-size premium luxury automobile. It is not just a upper trim level of the Crown sedan. Instead, it is an unique styling and interior treatment Super-Luxury car to import. The model was actually developed for the executives and VIP's in Japanese Domestic Market, However, now is available for export by Japanese car exporter to all over the world. The Toyota Crown Majesta is very well equipped with most advanced technology.

The new Toyota Crown Majesta is Toyota's flagship mainstream car. The new car is one of the Japan market's most premier domestic sedans, and the new model is positioned as a high-tech flagship of the venerable Crown lineup highest than any other Japanese new car in the market. The new model comes fitted with a wealth of cutting-edge technology, like noise-reducing glass and a trick night-view system with infrared camera in top of the range model by dealer to pick out pedestrians and other objects in front of the car.
Make
Toyota
Model
Crown Majesta Hybrid
Driving Type
2500cc: Four Wheel Drive (4WD)
3500cc: Two Wheel Drive (2WD)
Steering Position
Right Hand Drive (on the right side of car)
Transmission Type
Automatic gear
Fuel
Gasoline (Petrol)
Passenger Capacity
5 (According to Japanese law)
Engine Capacity
Available in 2500cc (official 2493cc) and 3500cc (official 3456cc)
Engine Type
2500cc: 2AR-FSE . DOHC 4 Cylinders . 16 Valves + 1KM motor
3500cc: 2GR-FXE . DOHC 6 Cylinders . 24 Valves + 1KM motor
Number of Doors
4
See pictures of this car
Front view . Side view . Back view . Cockpit view . inside view
Available Colors
See available Toyota Crown Majesta body colors
Price
2500cc Model: US$ 66,700. (Total Price Calculation)
3500cc Model: US$ 69,700. (Total Price Calculation)
Remarks
Shipping cost is not included in above prices
Shipping cost
Check shipping cost of this car to your country Shipping cost
Total price
Car price + Shipping cost to your country + Marine insurance US$ 210 = Total price
Extra charges
There are no hidden cost or extra charges.
Spare parts
We will supply spare parts of this car at any time
About us
We are verified and recognized company by "Japan Company Trust Organization"
Send inquiry for this car Click here
Batfa Japan Inc.
1 chome, Setagaya-ku, Tokyo 154-0017 Japan
Tel : 81334138080 Tel : 81334138084
Copyrights (C) 2016-2017, New Toyota Crown Majesta Hybrid Japan. All rights reserved.