Toyota Estima New 2013 Model for export from Japan. Import New Toyota Estima direct from Tokyo.
New Japanese car


Toyota Estima
2013 model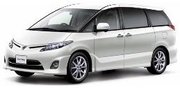 The Toyota Estima minivan is one of the best selling vehicle in Toyota new cars line-up. The car is very popular in Japan's domestic market and auto industry around the world. The model is called Toyota Previa in some countries and the Toyota Tarago in Australia, This MPV (multi-purpose vehicle) is a car that would preview technologies used in modern minivan in future, just like new Toyota Land Cruiser which is an all time best-seller and called king of four wheel drives (4WD). However this model has an extra advantage of carrying up to 8 passengers including driver.

The style of new Toyota Estima is a facelift with oval shape head lamps, while front end has been given a new aggressive look that continues to have a sleek silhouette, giving it a sportier look as opposed to the VIP style including improved interior style and features. Estima! A very practical and spacious car with comfortable ride, quiet and remarkable engine to elaborate driver. It's the perfect vehicle for a large family for comfortable, good pickup speed, quiet and a touch of sporty look, and is much better than other Japanese new cars for export to international auto market.
Make
Toyota
Model
Estima
Engine capacity
Available in 2400cc (official 2362cc) and 3500cc (official 3456cc)
Driving type
Available in Two Wheel Drive (2WD) and also Four Wheel Drive (4WD)
Steering position
Right Hand Drive (steering wheel on the right side of car)
Transmission type
Automatic gear
Fuel
Gasoline (Petrol)
Passenger capacity
Available in 7 & 8 passengers capacity (According to Japanese law)
Engine type
2400cc : 2AZ-FE . DOHC . 4 Cylinders . 16 Valves
3500cc : 2GR-FE . DOHC . 6 Cylinders . 24 Valves
Number of doors
5
See pictures of this car
Pic01 . Pic02 . Pic03 . Pic04 . Pic05 . Pic06 . Pic07 . Pic08 . Pic09 . Pic10 . Pic11 . Pic12
Toyota Estima Wallpaper (will open in new window)
Available Colors
See available colors of this car click here
Price
2400cc . 2WD . 8 Seater = US$ 36,400.
2400cc . 2WD . 7 Seater = US$ 39,400.
2400cc . 4WD . 8 Seater = US$ 39,400.
2400cc . 4WD . 7 Seater = US$ 42,400.
3500cc . 2WD . 8 Seater = US$ 44,400.
3500cc . 2WD . 7 Seater = US$ 44,400.
3500cc . 4WD . 8 Seater = US$ 46,400.
3500cc . 4WD . 7 Seater = US$ 47,400.
Remarks
Shipping cost is not included in above price
Shipping cost
Check shipping cost of this car to your country click here
Total price
Car price + Shipping cost to your country + Marine insurance US$ 120 = Total price

Total calculation

Get automatic calculation of this car to your country:
2400cc 2WD 8 Seater . 2400cc 2WD 7 Seater . 2400cc 4WD 8 Seater . 2400cc 4WD 7 Seater
3500cc 2WD 8 Seater . 3500cc 2WD 7 Seater . 3500cc 4WD 8 Seater . 3500cc 4WD 7 Seater
Extra charges
There are no hidden cost or extra charges.
Spare parts
We will supply spare parts of this car at any time
About us
We are approved and recognized company by "Japan Company Trust Organization"
Want to buy this car? Contact us click here
Batfa Japan Inc.
1 chome, Setagaya-ku, Tokyo 154-0017 Japan
Tel: +81334138080 Fax: +81334138084
Certified Japanese cars by "Japan Inspection Organization"
Copyrights (C) 2013-2014, New Toyota Estima Japan. All rights reserved.