Buy Toyota Estima Hybrid New 2016 model for export from Japan. Import New Estima Hybrid direct from Tokyo.
New Japanese car


Toyota Estima Hybrid
2016 model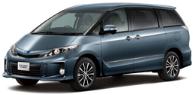 The Toyota Estima Hybrid is another people carry vehicle in Toyota new cars line-up. Due to its low emission, the model is admired by the earth lovers in all over the world. Running by Gasoline mated to Toyota's Hybrid Synergy Drive system THS-II battery equipped electric-motor makes this model a smooth and noiseless driving experience with highest spec MPV generally not available in other Japanese new car models of same category.

If you are intending to import huge people mover and you are concern on modern technology that save earth against CO2, then new Toyota Estima Hybrid is the best choice. This beautiful car is very popular in Japan among the big families and also use to carry executives from airport to the hotel. Whether you want to import new Toyota land Cruiser Prado or a hybrid car like Prius, you can buy direct from the well-known exporter.
Make
Toyota
Model
Estima Hybrid
Engine capacity
2400 cc
Driving type
Four Wheel Drive (4WD)
Steering position
Right Hand Drive (on the right side of car)
Transmission type
Automatic gear
Fuel
Gasoline (Petrol)
Fuel Consumption
18.0 kilometer per Liter
Passenger capacity
7 Persons and 8 Persons (According to Japanese law)
Engine type
2AZ-FXE . DOHC . 4 Cylinder
Number of doors
5
See pictures of this car
Pic1 . Pic2 . Pic3 . Pic4 . Pic5 . Pic6 . Pic7 . New Toyota Estima Hybrid Wallpaper
Available Colors
See available colors of this car: Toyota Estima Hybrid body colors
Price
8 Seats Model = US$ 42,400. (Total Price Calculation)
7 Seats Model = US$ 43,400. (Total Price Calculation)
Remarks
Shipping cost is not included in above prices
Shipping cost
Check shipping cost of this car to your country Shipping cost
Total price
Car price + Shipping cost to your country + Marine insurance US$ 140 = Total price
Extra charges
There are no hidden cost or extra charges
Spare parts
We'll supply spare parts of this car at any time
About us
Send inquiry for this car Click here
Batfa Japan Inc.
1 chome, Setagaya-ku, Tokyo 154-0017 Japan
Tel : 81334138080 Tel : 81334138084
Copyrights (C) 2016-2017, New Toyota Estima Hybrid Japan. All rights reserved.