TOYOTA HILUX PICK-UP EXPORT FROM JAPAN
Toyota Hilux Double Cabin used cars for export from Japan. Import used Hilux Diesel direct from Tokyo.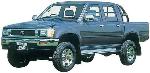 The Toyota Hilux pick up is one of the most selling vehicle in all over the world. This vehicle is available in Double cabin for the passenger capacity of 5 person with enough space for cargo, and also produced in single cabin that have 3 passengers capacity, but more space for cargo at the open area of the back side. If you are interested in the new vehicle, we can also supply Brand new Toyota Hilux Double Cabin

The used Toyota Hilux is one of the strongest pickup in the world. It is ideal to drive in dessert area, mountain area, jungle, and even in urban area. This model is called the toughest pickup in the world. It is second best seller of Toyota Japan car line-up after Toyota Land Cruiser which is still No.1 since decades.
Toyota Hilux Double Cabin used Pick up Stock List
Stock No.
Model
Year
Color
Transmission
Price
Details
3181
Hilux Double Cabin
1989
Red
Manual
US$ 10,800
Sold out
3182
Hilux Double Cabin
1992
Grey
Manual
US$ 11,800
Details
TA 053
Hilux Double Cabin
1993
Black
Manual
US$ 12,800
Sold out
TA 054
Hilux Double Cabin
1995
Grey
Manual
US$ 13,800
Sold out
TA 101
Hilux Double Cabin
1996
Black
Automatic
US$ 13,800
Details
TA 102
Hilux Double Cabin
1996
Red
Automatic
US$ 13,800
Details
TA 055
Hilux Double Cabin
1996
Grey
Automatic
US$ 13,800
Sold out
TA 103
Hilux Double Cabin
1997
Red
Manual
US$ 14,800
Details
TA 104
Hilux Double Cabin
2000
Black
Automatic
US$ 16,800
Details
TA 056
Hilux Double Cabin
2001
Grey
Automatic
US$ 16,800
Sold out
TA 105
Hilux Double Cabin
2003
Gold
Automatic
US$ 17,800
Details
View more stock of used Japanese cars in Tokyo
Batfa Japan Inc.
1 chome, Setagaya-ku, Tokyo 154-0017, Japan
Tel: 81334138080 Fax: 81334138084
Copyright (C) 2014-2015, Used Toyota Hilux Double Cab. All rights reserved.