Buy Mitsubishi GTO used car from reliable exporter in Japan. Import used GTO direct from Tokyo based main Mitsubishi dealer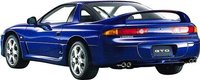 The Mitsubishi GTO is a high performance sports car built by Japan's fourth largest automaker Mitsubishi Motors Company. The model was marketed in Japan with the name of Mitsubishi GTO, and in overseas countries it was called "Mitsubishi 3000GT". The Mitsubishi developed the new GTO as a technologically advanced 2+2 seater sports coupe to compete other Japanese Sports car like, Honda NSX, Mazda RX-7, Nissan 300ZX, Skyline GTR and the Toyota Supra. They resurrected the GTO name, and the car went on to serve as Mitsubishi's flagship for the remainder of the decade, not only in Japan's domestic market, but also to auto market around the world.

The Mitsubishi GTO incorporated many of Mitsubishi's contemporary performance-enhancing technologies, such as full time four-wheel drive, four-wheel steering, active aerodynamics featuring automatically adjusting front and rear spoilers, sport/tour exhaust modes and electronically controlled suspension (ECS). Visually, the cars featured pop-up headlights and noticeable "caps" on the hood to accommodate the ECS controllers at the top of the strut turrets. The SOHC engine, was added to the Mitsubishi range. The production for the Japanese domestic market finally ceased in 2000, with the last two cars sold the following year by leading car exporters in Japan.
Batfa Japan Inc.
1 chome, Setagaya-ku, Tokyo 154-0017 Japan
Tel: +81334138080 Fax: +81334138084
Copyrights (C) Mitsubishi GTO Japan. All rights reserved.