Toyota Supra used car stock in Japan. Import used Toyota Supra for sale Direct from Japan.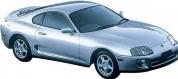 The Toyota Supra is a sports car produced by world's largest auto-maker Toyota Motor Corporation. The styling of Toyota Supra is slightly longer and wider than other Japanese sports cars. In the year of 90's Supra was the flagship sport car of Toyota Japan. Designed to be more of a grand-touring coupe than a hard-edged sports car, the Supra rewarded owners with its easy-to-drive nature and powerful engines. It also pioneered new technologies that enhance Supra's performance and speed.

Due to its popularity in all over the world as an iconic and one of the most beautiful sports car, the Supra has appeared in the 2001 Hollywood action film "The Fast and the Furious" that focuses on street racing and heists. That's why Toyota Supra is one of the best selling sport car than other Japanese used cars of same category. Used Toyota Supra is still popular among the youngsters in Japan's domestic car market, and sport car lovers around the world, for its beauty, durability, and performance.
Toyota Supra used cars stock list
Stock No.
Model
Year
Color
Transmission
Price
Details
3114
Supra
1990
Black
Manual
US$ 2,800
Details
3115
Supra
1991
Black
Manual
US$ 3,300
Details
BJ 107
Supra
1992
Black
Manual
US$ 3,800
Details
3116
Supra
1993
Silver
Automatic
US$ 7,500
Details
3117
Supra
1993
Silver
Manual
US$ 7,500
Details
70511
Supra
1995
Red
Manual
US$ 12,800
Details
3118
Supra
1997
White
Manual
US$ 13,800
Details
3396
Supra
1997
Black
Manual
US$ 13,800
Details
20501
Supra
1998
White
Manual
US$ 14,800
Details
3397
Supra
2000
Silver
Manual
US$ 17,800
Details
Batfa Japan Inc.
1 chome, Setagaya-ku, Tokyo 154-0017 Japan
Tel: +81334138080 Fax: +81334138084
Approved and recognized company by "Japan Company Trust Organization"
Copyrights (C) 2014-2015, Used Toyota Supra Japan. All rights reserved.