Japanese New Car


New Nissan Skyline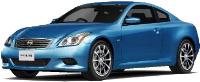 The Nissan Skyline is one of the long-seller Sport car manufacture by Japan's second largest Automobile maker "Nissan". The main reason why the Nissan Skyline is best-selling Sports car in Japan and all over the world is durability, best quality, and great performance.

The latest Nissan Skyline is available in 4 different models:

Batfa Japan Inc.
1 chome, Setagaya-ku, Tokyo 154-0017 Japan
Tel: +81334138080 Fax: +81334138084
Copyrights - New Nissan Skyline NA Japan (C) 2011-2012. All rights reserved.