Toyota Mark-X Zio used cars for export from Japan. Import used Toyota Mark x direct from Tokyo.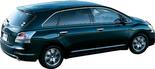 TOYOTA MARK-X ZIO STOCK LIST
Stock No.
Model
Year
Color
Price
Details
Sorry !! No Stock of Mark X Zio
Batfa Japan Inc.
1 chome, Setagaya-ku, Tokyo 154-0017 Japan
Tel: +81334138080 Fax: +81334138084
Approved and recognized by "Japan Company Trust Organization
Copyrights (C) 2014-2015, Used Toyota Mark-X Zio Japan. All rights reserved.