NISSAN PRIMERA FOR SALE IN JAPAN
Nissan Primera used car for sale in Japan. Import used Primera direct from Tokyo.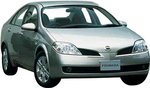 Nissan Primera Used Car Stock List
Stock No.
Model
Year
Color
Transmission
Price
Details
RH 101
Primera
1993
Black
Automatic
US$ 1,000
Sold out
4013
Primera
2001
Silver
Automatic
US$ 1,300
Details
4014
Primera
2002
Silver
Automatic
US$ 1,800
Details
Batfa Japan Inc.
1 chome, Setagaya-ku, Tokyo 154-0017 Japan
Tel: +81334138080 Fax: +81334138084
Verified and Recognized company by "Japan Company Trust Organization"
Certified and approved used cars stock by "Japan Inspection Organization"
Copyrights (C) 2014-2015, Used Nissan Primera Japan. All rights reserved.