USED NISSAN DUALIS FOR SALE IN JAPAN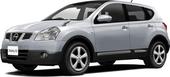 The Nissan Dualis is an impressive, stylish, durable, and sporty look family compact hatchback crossover Sport Utility Vehicle (SUV). This versatile SUV has lot of features combined in a compact car. This model has both off-road and on-road capabilities and can run in any condition of roads and any kind of weather. Although, the model has less specs than the Toyota Land Cruiser, its sales in Japan is increasing due to reasonable price and less maintenance expenses.

This attractive model is famous due to its fuel-economy and beautiful shape. The model was basically introduced in Japan for domestic sale, but now selling in all over the world by Japanese used car exporters in Japan. Your decision to choosing Nissan Dualis for your next car will not regret you. Batfa.com is your only choice for import of all kind of Japanese used cars. Select your next car from the stock list at below. More cars are expected to arrive in stock soon.
Nissan Dualis Used Cars Stock List
Stock No.
Model
Year
Color
Price
Details
8305310459
Dualis
2007
Silver
US$ 6,800
Details
2121042137
Dualis
2008
Black
US$ 7,800
Details
8305311094
Dualis
2008
Gold
US$ 7,800
Details
2111032546
Dualis
2008
Silver
US$ 7,800
Details
View photo and detail of new Nissan Dualis
View more stock of used Japanese cars
Batfa Japan Inc.
1 chome, Setagaya-ku, Tokyo 154-0017 Japan
Tel: +81334138080 Fax: +81334138084
Approved and recognized company by "Japan Company Trust Organization"
Copyrights (C) 2014-2015, Used Nissan Dualis Japan. All rights reserved.