Honda Beat used cars for export from Japan. Import used Honda Beat direct from Tokyo.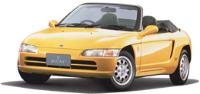 The Honda Beat is a rear wheel drive, mid-engine two-seat roadster small size Japanese sport car known as kei-car in Japan. The Honda Beat was part of a wave of kei car-sized sports cars in the early 1990s when the sports cars were popular among the youngsters and son on. This tiny beautiful sports car was produced from May 1991 to February 1996. The Honda Beat was sold exclusively in domestic market of Japan at Honda used-car dealership in Japan, but was exported all over the world by exporters of Japanese used cars in Japan.

The 660cc small engine was modified with the MTREC (Multi Throttle Responsive Engine Control) system, with individual throttle bodies for each of the three cylinders, to produce 64 PS (63 bhp) at 8100 rpm with an electronically limited top speed of 135 km/h (84 mph) which is less than Toyota Japan cars. Choose best quality and JIO certified used Honda Beat as your next car will not regret your decision due to fuel-economy.
Honda Beat Used Cars Stock List
Stock No.
Model
Year
Color
Transmission
Price
Details
3310
Beat
1991
Red
Manual
US$ 4,600
Sold out
3312
Beat
1991
Silver
Manual
US$ 4,600
Sold out
3526927
Beat
1992
Silver
Manual
US$ 5,400
Sold out
View full list of Honda new cars
View more Japanese used cars
Batfa Japan Inc.
1 chome, Setagaya-ku, Tokyo 154-0017 Japan
Tel: +81334138080 Fax: +81334138084
Verified and recognized by "Japan Company Trust Organization"
Certified and approved used cars by "Japan Inspection Organization"
Copyrights (C) 2014-2015 Used Honda Beat Japan. All rights reserved.