Mitsubishi Eclipse used car export from Japan. Import used Eclipse Spyder direct from Tokyo.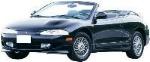 Japanese used car
Mitsubishi Eclipse
Stock No.
20908
Make
Mitsubishi
Model
Eclipse
Year
1997 model
Color
Black
Doors
2 open car
Steering position
Left Hand Drive (steering wheel on the left side of car)
Transmission
Automatic
Fuel
Petrol (Gasoline)
Features
Power steering, Power windows, Air conditioner, Power side mirrors, CD Stereo,
Central locking, Side impact bar, Open car, Leather seats, Very good condition
Pictures
Front view . Back view . inside view
Price
US$ 7,800 (Shipping cost not include)
Shipping cost
Check shipping cost of this car to your country click here
Total price
Car price US$ 7,800 + Shipping cost + Marine insurance US$ 120 = Total price.

Total calculation

Get automatic calculation of this car to your country click here

Extra charges
There are no hidden cost or extra charges.
Spare parts
We'll supply spare parts of this car at any time
How to buy this car
Send an E-mail that you want to buy this car with your name, address, and telephone number.
We'll issue proforma invoice with our Japanese Bank details.
You will send payment by wire transfer.
After confirmation of payment, we'll send car with first available ship.
After sailing of vessel from Japan, we'll send you shipping documents by DHL.
You will submit those documents at shipping company's office in your city for delivery of car.
About us
We are approved and recognized company by "Japan Company Trust Organization"
Want to buy this car? Contact us click here
Batfa Japan Inc.
1 chome, Setagaya-ku, Tokyo 154-0017 Japan
Tel: +81334138080 Fax: +81334138084
Copyrights (C) 2012-2013. All rights reserved.