Japanese New Car


Toyota Camry
2012 model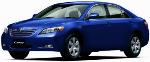 Sorry !! The production of this model has stopped.
However, latest model New Toyota Camry Hybrid is available for sale.
The Toyota Camry is a mid-size luxury car manufactured by Toyota Japan. since it's first model released in the year 1982, Toyota Camry is one of the best-selling car in Japan's domestic market as well as throughout the world. The Camry has been regularly the best selling car for the last three decade, better than other new Japanese cars sell in Japan and other countries. The high-specification Camry models are seen as executive cars, making it a status symbol in some countries, which is the main reason to make Camry the long-selling car.

The Toyota Camry is the epitome of the four-door, mid-size sedan. The best-selling mid-size Toyota Camry has long appealed for its reliability, low running costs, spaciousness, and best fuel-efficiency. Whether you buy a Camry for your family or for work, you are definitely getting a comfortable, spacious sedan that performs reasonably well. In recent years, Toyota Japan has upgraded safety equipments of car and added desirable options for the comfortable driving pleasure. Choose your favorite trim and color from the list at below.
Make
Toyota
Model
Camry
Driving Type
2WD . also available in 4WD
Steering Position
Right Hand Drive (on the right side of car)
Transmission Type
Automatic gear
Fuel
Gasoline (Petrol)
Passenger Capacity
5 (According to Japanese law)
Engine Capacity
2400 cc
Engine Type
DOHC 16 valve
Number of Doors
4
See pictures of this car
Front view Back view Cockpit view inside view
Available Colors
See available colors of this car click here
Price
2WD : US$ 34,800.
4WD : US$ 36,800.
Remarks
Shipping cost is not include in above price
Shipping cost
Check shipping cost of this car to your country click here
Total price
Car price+Shipping cost+Marine insurance US$ 120 =Total price.

Total calculation

Get automatic calculation of this car to your country: 2WD . 4WD


Extra charges
There are no hidden cost or extra charges.
Spare parts
We'll supply all spare parts of this car at any time
Want to buy this car? Contact us click here
Batfa Japan Inc.
1 chome, Setagaya-ku, Tokyo 154-0017 Japan
Tel: +81334138080 Fax: +81334138084
Copyrights (C) 2011-2012, New Toyota Camry Japan. All rights reserved.