Toyota Kluger New 2007 Model export from Japan. Import New Kluger 2008 Direct from Japan.
Japanese New Car
Toyota Kluger
2007 model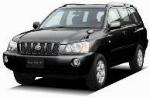 Toyota Kluger New Model is not available anymore.
Now Toyota Vanguard is available for sale which is similar to Kluger.
For details of latest model Toyota Vanguard click here
Batfa Japan Inc.
1 chome, Setagaya-ku, Tokyo 154-0017 Japan
Tel: +81334138080 Fax: +81334138084
Copyrights (C) 2009-2010. All rights reserved.